Izuchenie pamyatnikov kamnereznogo iskusstva i arabskoy epigrafiki XIII-XVIII vv. Kubachino-darginskogo nagor'ya dagestana v 2007 g.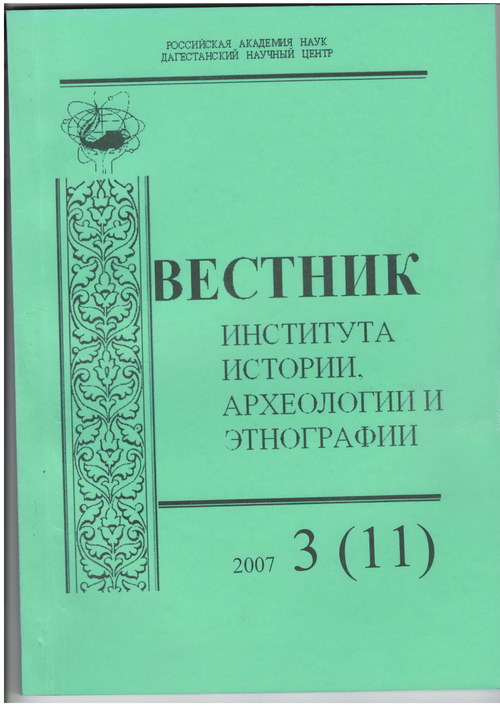 Authors: Mammaev M.M., Mirkiev G.M., Shakhaev A.S.
Issue: Vol 3, No 3 (2007)
Pages: 85-108
Misrikhan Mammaevich Mammaev
G M Mirkiev
A Sh Shakhaev
Атлас к путешествию Б.А. Дорна по Кавказу и южному побережью Каспийского моря. 1895. СПб.
Башкиров А.С., 1926. Средневековый памятник дагестанского аула Калакорейш // Труды САИАИ РАНИОН. Вып. 1. М.
Дагирова Д.А., 2002. Резной камень в собрании декоративно-прикладного искусства Дагестана Музея изобразительных искусств // Сборник научных статей Дагестанского музея изобразительных искусств. Вып. 1. Махачкала.
Дебиров П.М., 1982. Резьба по дереву в Дагестане. М.
Иванов А.А., 1987. Персидские надписи из Кубачи // Rivista degli studi orientali. Vol. LIX. Fasc. I-IV. Roma (статья на русс. яз.).
Маммаев М.М., 1989. Декоративно-прикладное искусство Дагестана. Истоки и становление. Махачкала.
Маммаев М.М., 2005. Зирихгеран-Кубачи. Очерки по истории и культуре. Махачкала.
Шиллинг Е.М., 1949. Кубачинцы и их культура. Историко-этнографические этюды. М.; Л.
Шихсаидов А.Р., 1984. Эпиграфические памятники Дагестана X-XVII вв. как исторический источник. М.
Salmony A., 1943. Daghestan sculptures // Ars islamica. The research seminary in islamic Art, institute of fine arts. University of Michigan. V. X. Ann Arbor.