O lokalizatsii lpinov i chilbov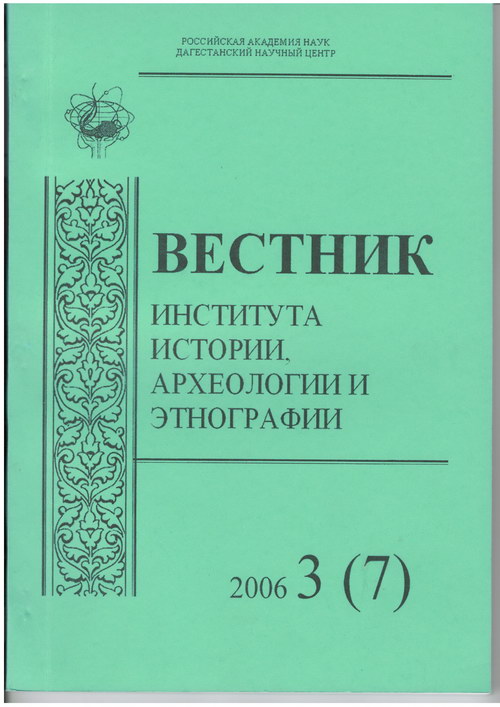 Authors: Semenov I.G.
Issue: Vol 2, No 3 (2006)
Pages: 3-8
Акопян А.А., 1987. Албания-Алуанк в греко-латинских и древнеармянских источниках. Ереван.
Армянская География VII века по Р.Х. (приписывавшаяся Моисею Хоренскому). Текст и перев. с присовокуплением карт и объяснительных примечаний издал К.П. Патканов. СПб., 1877.
Арутюнян Б.А., 1981. К вопросу о местоположении Лпинка // Историко-филологический журнал. № 1 (на арм. яз.).
Гаджиев М.С., 1995. О местоположении Варачана // РА. № 2.
Гаджиев М.С., 1998. Лпиния (исторические факты, локализация, этническая принадлежность) // Дагестан в эпоху Великого переселения народов (Этногенетические исследования). Махачкала.
Гаджиев М.С., 1999. К исторической географии Кавказской Албании (в контексте миссии епископа Исраела) // Древности Северного Кавказа. Махачкала.
Джафаров Ю., 1985. Город Цри и страна чилбов в "Истории албан" Моисея Каланкатуйского // Древний и средневековый Восток. М. Ч. 1.
Еремян С.Т., 1939. Моисей Каланкатуйский о посольстве албанского князя Вараз-Трдата к хазарскому хакану Алп-Илитверу // Зап. ИВ АН СССР. Т. 7.
Ибн-Хаукаль, 1908. Из «Книги путей и царств». Пер. Н.К. Караулова // СМОМПК. Вып. 38. Тифлис.
Ал-Истахрий, 1901. Книга путей царств. Пер. Н.К. Караулова // СМОМПК. Вып. 29. Тифлис.
История агван Моисея Каганкатваци. Пер. К. Патканова. СПб., 1881.
Котович В.Г., 1974. О местоположении раннесредневековых городов Варачана, Беленджера и Таргу // Древности Дагестана. Махачкала.
Магомедов Д.М., 1975. Исторические сведения о дидойцах // Вопросы истории Дагестана. 2. Махачкала.
Минорский В.Ф., 1963. История Ширвана и Дербенда Х-ХI вв. М.
Мовсэс Каланкатуаци, 1984. История страны Алуанк. Пер. с древнеармянского, предисл. и коммент. Ш.В. Смбатяна. Ереван.
Ал-Мукаддасий, 1908. Лучшее из делений для познания климатов. Пер. Н.К. Караулова // СМОМПК. Вып. 38. Тифлис.
Патканов К., 1883. Из нового списка Армянской Географии, приписываемой Моисею Хоренскому // Журнал Министерства народного просвещения. Март.
Семенов И.Г., 2002. Этнополитическая история Северного Кавказа в III-VI вв. / Автореф. дис. … канд. ист. наук. Махачкала.
Шихсаидов А.Р., 1957. О проникновении христианства и ислама в Дагестан // УЗ ИИЯЛ. Махачкала, Т. 3.
Шихсаидов А.Р., 1980. Вопросы исторической географии Дагестана X-XV вв. (Лакз, Гумик) // Восточные источники по истории Дагестана. Махачкала.
The History of the Caucasian Albanians by Movsēs Dasxuranci. Transl. by C.J.F. Dowsett. London - New York - Toronto, 1961.