Elementy demokratii v Dagestane nakanune prisoedineniya k Rossii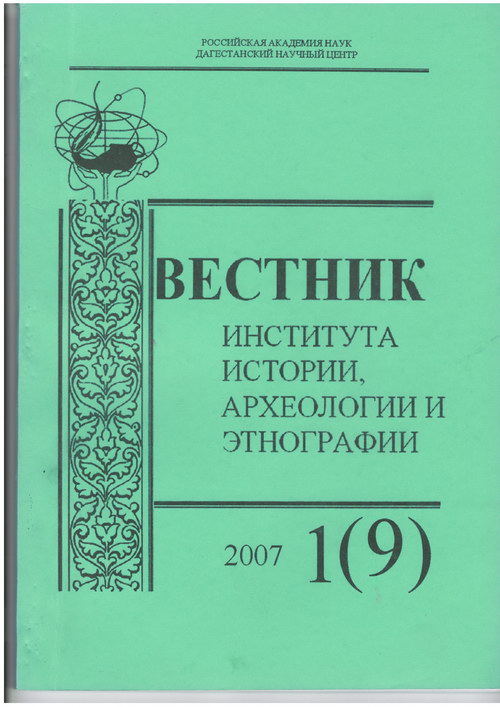 Authors: Gammer M.
Issue: Vol 3, No 1 (2007)
Pages: 48-55
Агларов М., 1988. Сельская община в Нагорном Дагестане в XVII - начале ХIХ в., М.: Наука.
Бобровников В.О., 1995. Эволюция социальных и поземельных традиций Хуштадинского джамаата в ХIХ-ХХ веках // Тамара Сиверцева, Михаил Рощин и Владимир Бобровников. Дагестан: село Хуштада. М.
Османов Л., 1997. Непокоренная Чечня. М.
Abdullaeva Zaira, 2001. Dagestan: Willing to Sacrifice Democracy for Stability // Russian Regional Report. Vol. 6. No. 12 (2 April 2001).
Baddeley John F., 1940. The Rugged Flanks of the Caucasus (London), Vol. 2.
Chenciner Robert, 1997. Daghestan. Tradition and Survival (London and New York).
Gammer Moshe, 1994. Muslim Resistance to the Tsar. Shamil and the Conquest of Chechnia and Daghestan. London.
Kisriev Enver. "Societal Conflict-Generating Factors in Daghestan", in: Moshe Gammer (ed.). The Caspian Region (tentative title; London, Forthcoming).
Zelkina Anna, 2000. The 'Wahhabis' of the Northern Caucasus vis-á-vis State and Society: The Case of Daghestan // Quest for God and Freedom. Sufi Responses to the Russian Advance in the Northern Caucasus. London.