R. Erkert and G. Abercromby - the researchers of «Dag-Bary»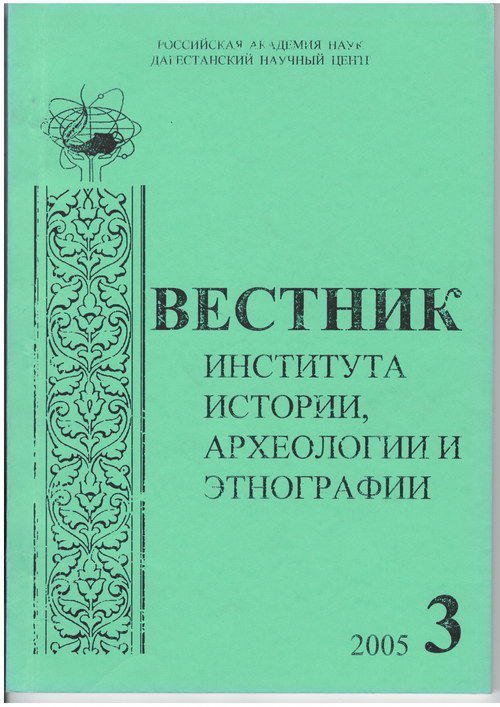 Authors: Gadzhiev M.S.
Issue: Vol 1, No 3 (2005)
Pages: 51-58
Труды V Археологического съезда в Тифлисе. 1881 г. / Под ред. графини Уваровой. М., 1887.
Хан-Магомедов С.О. Дербент. Горная стена. Аулы Табасарана. М., 1979.
Хан-Магомедов С.О. Дербентская крепость и Даг-бары. М., 2002.
Abercromby J. A Trip through the Eastern Caucasus, with a Chapter on the languages of the country. London, 1889.
Abercromby J. The Wall of Derbend // The Scottish Geographical Magazine. VI. Edinburgh, 1890.
Dorn B.. Auszuge vierzehn morgenlandischen Schriftstellern, betreifend das Kaspischen Meere und angranzende Laander // Melanges asiatiques. T.VI. SPb., 1871.
Erckert R. von. Die Mauer von Derbend // Zeitschrift fur Ethnologie. Bd. XVII. Verhandlungen der Berliner Gesellschaft fur Antropologie, Ethnologie und Urgeschichte. Redigird von Rud. Virchow. Jahrgang 1885. Berlin, 1885.
Erckert R. von. Der Kaukasus und seine Volker. Leipzig, 1887.
Gadzhiev M.S., KudrjavcevA.A. Steinmetzzeichen des 6. Jahrhunderts n. Chr. In Darband // AMIT. Bd. 33. Berlin, 2001.