Raskopki v Derbente v 2010 g. (Raskopki provedeny pri finansovoy podderzhke RGNF, proekt 10-01-18097e)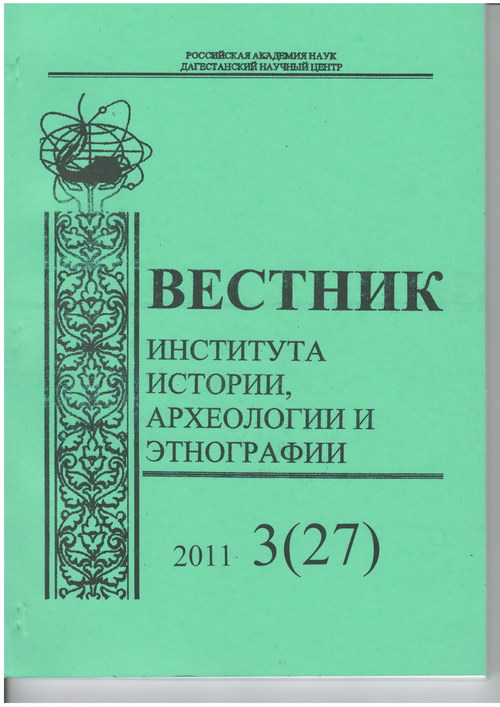 Authors: Gadzhiev M.S.
Issue: Vol 7, No 3 (2011)
Pages: 109-128
Murtazali Serazhutdinovich Gadzhiev
Алиев А.А., Алиев И.Н., Гаджиев М.С., Гейтнер М.Г., Кол Ф.Л., Магомедов Р.Г., 2004. Новые исследования Гильгильчайской оборонительной стены // Проблемы истории, филологии, культуры. Вып. XIV. М.; Магнитогорск.
Гаджиев М.С., 1989. Исследования сырцовой фортификации цитадели Дербента сасанидского времени (по материалам раскопов Р-XI и Р-XIII) // Древняя и средневековая архитектура Дагестана. Махачкала.
Гаджиев М.С., 2001. Городище Торпах-кала // Археология восточноевропейской лесостепи. Вып. 15. Средневековые древности евразийских степей. Воронеж.
Гаджиев М.С., 2005. Работы Дербентской археологической экспедиции // Вестник Института истории, археологии и этнографии ДНЦ РАН. № 1. Махачкала.
Гаджиев М.С., 2005а. Исследования Дербентской экспедиции // Вестник Института истории, археологии и этнографии ДНЦ РАН. № 4. Махачкала.
Гаджиев М.С., 2006. Определение абсолютной даты строительства цитадели и северной городской стены Дербента и произведенных трудозатрат (интерпретация среднеперсидской надписи № 3) // Вестник Института истории, археологии и этнографии ДНЦ РАН. № 1. Махачкала.
Гаджиев М.С., 2010. К выделению и интерпретации зороастрийских символов в знаковой системе Дербента середины VI века // Международная научная конференция «Археология, этнология, фольклористика Кавказа». Сборник кратких содержаний докладов. Тбилиси, 25-27 июня 2009 г. Тбилиси.
Гаджиев М.С., 2011. Раскопки в Дербенте в 2009 г. // Вестник Института истории, археологии и этнографии ДНЦ РАН. № 1. Махачкала.
Гаджиев М.С., Бакушев М.А., 2006. Захоронения солдат российского гарнизона 1831 г. в цитадели Дербента // Вестник Института истории, археологии и этнографии ДНЦ РАН. № 4. Махачкала.
Гаджиев М.С., Бакушев М.А., Будайчиев А.Л., 2006. Археологические раскопки в цитадели Дербента в 2006 г. // Вестник Института истории, археологии и этнографии ДНЦ РАН. № 3. Махачкала.
Гаджиев М.С., Гамидов А.К., 2007. Археологические исследования в Дербенте в 2007 г. // Вестник Института истории, археологии и этнографии ДНЦ РАН. № 4. Махачкала.
Гаджиев М.С., Гамидов А.К., Будайчиев А.Л., Абиев А.К., 2009. Раскопки в Дербенте в 2008 г. // Вестник Института истории, археологии и этнографии ДНЦ РАН. № 2.
Гаджиев М.С., Касумова С.Ю., 2006. Среднеперсидские надписи Дербента VI века. М.: Издательская фирма «Восточная литература».
Гаджиев М.С., Магомедов Р.Г., 2008. Торпах-кала - Куро-аракское поселение и Сасанидское городище в Южном Дагестане // Археология Кавказа и Ближнего Востока. Сборник к 80-летию чл.-корр. РАН, проф. Р.М. Мунчаева. М.
Кудрявцев А.А. 1978. О датировке первых сасанидских укреплений в Дербенте // СА. № 3.
Кудрявцев А.А. 1979. «Длинные стены» на Восточном Кавказе // ВИ. № 11.
Aliev A.A., Aliev I.N., Gadjiev M.S., Gaither M.G., Kohl Ph.L., Magomedov R.M., 2006. The Ghilghilchay Long Defensive Wall: New Investigations // Ancient East and West. Vol. 5. No. 1-2.
Bivar .AD., Fehervary G., 1966. The Walls of Tammisha // Iran. Vol. IV.
Gadžiev M.S., Kudrjavcev A.A., 2001. Steinmetzzeichen des 6. Jahrhunderts n. Chr. in Darband // Archäologische Mitteilungen aus Iran und Turan. Bd. 33. Berlin.
Kiani M.Y., 1982. Parthian sites in Hyrcania: the Gurgan Plain. (AMI. Ergänzungband 9). Berlin.
Nokandeh J., Sauer E., Omrani Rekavandi H., Wilkinson T., Abbasi A.Gh., Schwenninger J.-L., Mahmoudi M., Parker D., Fattahi M., Usher-Wilson L.S., Ershadi M., Ratcliffe J., Gale R., 2006. Linear barriers of northern Iran: the great wall of Gorgan and the wall of Tammishe // Iran. Vol. XLIV.